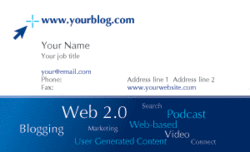 Only a month after the launch of our blogger cards, Ooprint is excited to announce that they are now FREE! 

You can now order your Business card 2.0 (blogger card with unique customizable tag cloud) at no cost (excluding tax and shipping).

This is a limited time offer, so be sure to take advantage now!

Check out our blogger cards here: