ooprint is persistently coming up with new ideas and designs for business cards, and this time we've hit on something BIG.  Business cards . . . for students!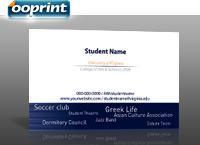 Students are constantly busy meeting new friends, professors, prospective employers . . . you need a way to leave their contact information and a good impression!  Student business cards are ideal for connecting with other students, networking at job fairs, and promoting campus clubs and organizations.
We have designed business card models exclusively for certain universities, with school colors and institutional characteristics in mind.  Choose from classic cards to more trendy models.  Some cards include a tag cloud that you can personalize to express who you are and what you're involved in on your business card.  We've also added the option of uploading a photo or logo, so these cards appeal to your student organizations as well.
Best of all, you can order your business cards even on a student budget . . . 100 student business cards are FREE! (shipping not included)
ooprint student business cards are currently available to students of :
University of California – Berkeley

University of North Carolina-Chapel Hill

Vanderbilt University
Interested in free student business cards for YOUR university?  Contact ooprint here.
Students, get in the back-to-school spirit and order your free student business cards now!