Origins of the Christmas Card
The tradition of sending Christmas or holiday cards is very much engrained in our culture, but the custom is not as old as one might imagine!  The idea of sending Christmas greetings first began in England in the 1840's with the invention of the Penny Post, which greatly simplified the sending of mail.  Soon after, the development of lithography printing popularized the sending of colorful, decorative Christmas cards.  Despite the ease of communication thanks to the telephone and email, the tradition of sending Holiday Cards to one's family and friends during the advent season has continued to today.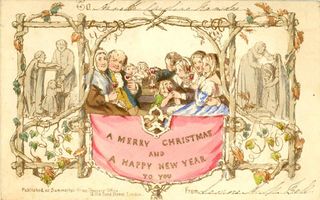 The first commercial Christmas card, commissioned by Henry Cole, designed by John C. Horsley in 1843.
Image credit: http://postalheritage.org.uk/exhibitions/onlineexhibitions/christmas/firstcard
Content of a Holiday Card
The first cards sent in England brought wishes for a joyous Christmas.  Today, the sending of holiday cards is a tradition that has expanded across the world, and is also practiced by non-Christians.  Thus, the holiday card no longer simply contains the message "Merry Christmas" but also offers wishes for a Happy New Year or Season's Greetings.  Some holiday cards continue to center on the Christmas theme, featuring the image of a nativity scene or a Bible verse, but others are entirely secular and can show other holiday characters such as Santa Claus, holly and ivy, or snowy landscapes.
Special Holiday Cards
Official holiday cards were first sent by Queen Victoria of England in the 1840's.  The first Christmas message from a President was written by President Calvin Coolidgne in 1927 and was published in newspapers across America.  Then in 1953, Presdient Dwight D. Eisenhower sent the first official holiday card to a list of 1,300 recipients including American ambassadors, members of the Cabinet and Congress, and foreign heads of state. Today, Presidential holiday cards typically depict White House scenes rendered by famous American artists.
White House Christmas cards sent by Presidents Dwight D. Eisenhower, George Bush, Bill Clinton, and George W. Bush.
Image credit: http://www.whitehouse.gov/holiday/2002/cards.html 
Commercial holiday cards are sent by many companies to their customers and clients as a gesture of amity.  These cards are almost always secular in nature.  
Charity holiday cards are used by organizations as a fundraising tool. One such well-known program is the UNICEF Christmas card program, which is a partner of ooprint France.
You may personalize your own Holiday Card with your texts, photos, and logo!  Take advantage of our elegant designs, high quality paper, digressive prices, and quick shipping on ooprint.com.