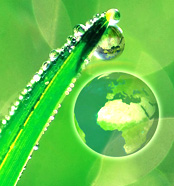 "Your planet needs you!  Unite to combat climate change" is the theme of the 2009 World Environment Day.  Created by the United Nations in 1972, this day serves to stimulate global awareness of environmental issues and to prompt political action.  Celebrated on June 5th, World Environment Day presents a different theme and host country each year.  This year Mexico holds the honor. 
Today, ask yourself: what importance does the protection of the environment have in your life?  Do you recycle plastics and glass?  Do you always turn the light off when leaving a room?  Do you eat organic foods?  Do you travel by bicycle instead of by car?
At ooprint, we are dedicated to pursuing environmentally-friendly business practices.  We exclusively use papers which are certified by the Forest Stewardship Council, ensuring that our papers come from forests that are managed to meet the social, economic, and ecological needs of present and future generations.  More specifically, FSC certification guarantees the prohibition of conversion of forests or other natural habitats, the respect of international workers rights, the non-use of hazardous chemicals, the respect of Human Rights with particular attention to indigenous peoples, and the identification and appropriate management of areas needing special protection (cultural or sacred sites, or habitats of endangered animal and plant species).
Ooprint takes our commitment to the protection of the environment even further by implementing strict procedures concerning paper recycling, the disposal of ink cartridges and chemical products, and careful energy consumption. 
Do your part for the environment by adopting green practices in your everyday life . . . start by shopping on ooprint.com.