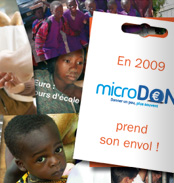 Professionals, individuals, and even not-for-profit companies trust ooprint to supply them with printed products. Such is the case of microDON, a French organization whose purpose is to aid companies with fundraising campaigns for various associations (humanitarian, social, or environmental).  microDON also proposes a complementary charitable operation which is centered on the carteDON (literally, a gift card), which is located at the checkout lines of supermarkets and allows customers to make a donation to a specific association sponsored by the given supermarket.  A very noble activity which merits public attention and publicity!
To get the word out about its activity, microDON relies in part on printed marketing materials.  As they already have their own style guidelines, the organization chose from our collection of blank models, giving them the possibility to upload their own original designs.  In particular, MicroDon personalized invitation cards to announce their launch.  Similarly, they uploaded their design to our blank model business cards for their employees.  In just a few clicks microDON was able to order a collection of completely personalized printed products.     
Whether your have your own graphic guidelines or not, you can order your printed products on ooprint. Either upload your creations to one of our blank models, or choose from our collections of business cards and invitations.