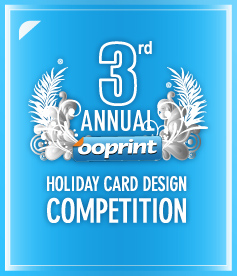 Designers, to your sketchbooks!
The 3rd Annual ooprint Holiday Card Design Competition is officially open.  This annual design competition is a wonderfully exciting event, for you designers as well as for the ooprint team!  The number of submissions and design quality has increased from year to year, making the selection of finalists an even more difficult decision.  We're up for the challenge, so send us as many creative, original, and exciting designs as you like. 
Feeling motivated?  Start sketching!  The competition is tight, and the stakes are high . . . we're giving out tons of great prizes, from ooprint and our sponsors.  This year, we're excited to announce that a new partner has joined the fun, the tee-shirt design company la Fraise. 
It's up to you, designers, to set the bar of artistic excellence.  We're counting on your creativity to make this year's competition the best yet!  Good luck!