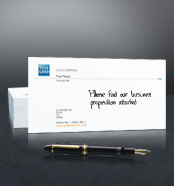 No matter the size of your company, it is important to have personalized stationery.  Larger companies may have established graphic guidelines; smaller companies may simply have a logo or only their address to feature.  Whatever the case, a stationery line in the image of your company is essential.
While a business card is useful when establishing an initial contact, further business relations require correspondence and the necessary accompanying cards. 

A personal greeting addressed to your contact on personalized correspondence cards show great professionalism and elegance.
On ooprint.com, you may choose from a variety of styles of correspondence cards, all of which can of course be personalized.
See our collection here, and coordinate your business cards, letterhead, and correspondence cards for a polished professional image.