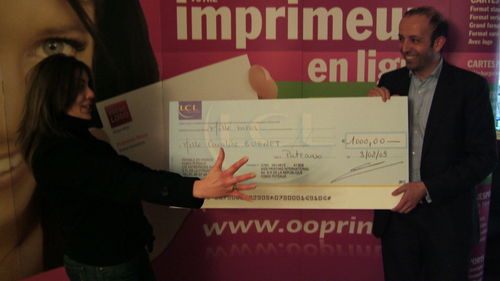 We very recently had the pleasure of meeting the Grand Prize winner of our 2nd annual Holiday Card Design Competition, Caroline Bugnet!  
To congratulate Caroline on her artistic talents and her beautiful holiday card creation, we joined together and toasted to her success.  Ooprint president Rafik Smati also presented Caroline with her prize, a (rather large) check for 1000 euros.
Caroline, originally a costume and fashion designer, was kind enough to share her creative approach (and design secrets) with us and explain how she achieved her final design.  To embrace the spirit of the holiday season and the New Year, Caroline chose the theme of passing time for her card.  She then elaborated on this idea, using the image of an old timepiece from which numbers fall symbolizing years passing, and fireworks to bring a festive note to the arrival of the New Year.  Caroline admits that she "didn't believe in online competitions" but decided to participate all the same, and is now delighted to have won!  Bravo, Caroline, you successfully created a magical and celebratory atmosphere with which we can all identify.
For more information about Caroline, you can visit her website.
Anxious to show off your design skills and compete for the Grand Prize?  The next ooprint Holiday Card Competition will be announced soon!
In the meantime, keep an eye on our blog for the latest news about upcoming projects for designers!