In our spotlight on the finalists series we have already introduced Noura, the grand prize winner of the 2010 Holiday Card Design Competition. We're now pleased to present Tania Duffault, the winner of the Jury Prize, awarded based on artistic merit.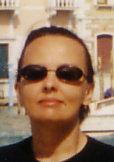 Originally from the Ukraine, Tania studied art at the Fine Arts and Architecture Academy of Kiev.  She is now a graphic designer, which is not only a profession but also her passion.  Her principal medium is painting; she is currently preparing an exhibit.  She is also exploring advertising.
Tania admits being very pleased and surprised at winning a prize in the 2010 Design Competition.  "I was very happy, of course!" she told us.

For this competition, Tania was determined to find an original expression, a different language.  To accomplish this feat, she explored a new avenue: cut paper which was then photographed to produce a final product complete with rich with shadows and color nuances, despite the white paper.
The theme of the card was inspired by her Ukrainian background.  For Tania, the New Year is synonymous with winter, and snow.  Her idea was to combine the sensation of the holidays with snow, the tree, decorative balls, and gifts.

For more information about Tania Duffault, visit here website. You can also find more creations by the finalists on their websites and blogs:

- Nor Azniza Abdull Aziz, Malaysia: http://evessence.wordpress.com 
- Delfine Guevel, France 
- Marie Durque, France: http://mdcreation.daportfolio.com
- Sébastien Bourgeois, France: www.sebcbien.typepad.com
- Anne Laborde, France: www.creabook.com/shynata 
- Alex Chavot, France: http://alexfaitdeschoses.blogspot.com/
- Mélanie Gautier, France: http://www.melaniegautier.com/
- Stéphane Le Brethon, France: http://capoblog.free.fr
- Aftab Arab, England:  www.aularegis.co.uk
- Julien Kaltnecker, France: www.julienkaltnecker.fr 
- Maxim Cyr, Canada: www.themaxwax.com
- Carolina Medberg Smith, United States: www.artbycarolina.com
- Paula Arquiola Lis, Spain 
- Georges Bousquet, France : http://casajordi.blogspot.com/
- Chien-Yu Kuo, Taïwan : http://www.flickr.com/photos/dropped_sugar/
- Darena Iliev,
Italy
:
http://darenailiev.typepad.com/darenas_blog/

Congratulations again to all our finalists!